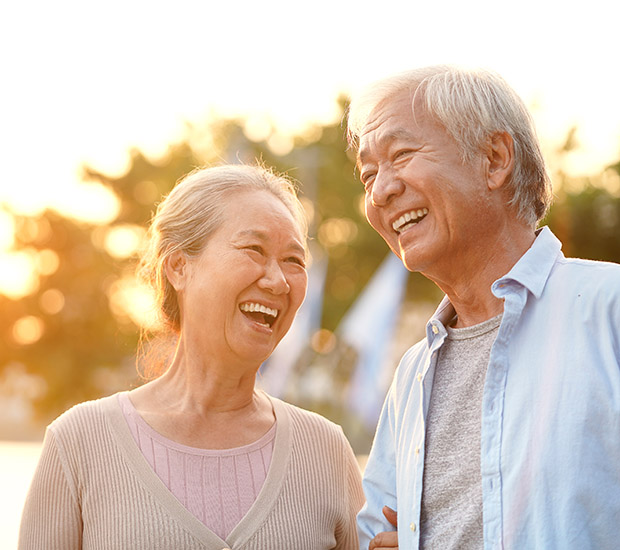 Fixed Full Arch Dental Implants
Danville, CA
Fixed full arch dental implants are a great option for patients who have lost most or all of their teeth and need a full arch replacement. Missing or severely damaged teeth can seriously impact one's self-esteem, directly affecting their quality of life. Luckily our team offers patients a safe and effective long-term treatment option that may be a better alternative than traditional dentures.
The practice of Gregory K. Louie, DDS, PC, offers fixed full arch dental implant services to patients in Danville and surrounding areas. Our team will be happy to craft a customized treatment plan for you or a loved one. To learn more or schedule an appointment, call us today at 925-659-1142.
What are fixed full arch dental implants?
A dental implant is a medical device that helps to replace missing teeth. It consists of titanium and securely fixes the replacement tooth in position. They can attach to dentures or provide a stable foundation to build new teeth.
Fixed dental implants have been used for years, but fixed full arch dental implants, also known as All-on-4 Restorations, Full Arch Prosthetics, or Fixed Implant Restorations (FRI), are a recent advancement in the field of dentistry. When receiving this type of implant, we will replace the patient's entire row of teeth in their upper or lower jaw with artificial ones that look identical to real teeth.
Advantages of Fixed Full Arch Dental Implants
This new implant has many benefits over previous types, with one major benefit being that we can place it in a single step instead of requiring two surgeries. This procedure will allow patients to get a complete smile makeover in one visit instead of scheduling multiple appointments. There is also no need for a bone graft as the implants will undergo their bonding process.
In addition, fixed full arch dental implants are a better option than traditional alternatives because of the following benefits:
Permanent (Non-removable)
Natural look and feel
Easy upkeep
Patients can consume any foods they wish
Shorter procedure time
A fixed full arch dental implant is a great option for those looking for a permanent solution compared to traditional dentures requiring more maintenance. Though commonly thought only to be used for missing teeth, we may also recommend this implant for a patient with bone loss in their jaw.
Who is a considered a good candidate?
Patients who are missing all or the majority of their teeth on either the upper or lower jaw are ideal candidates for this type of implant surgery. We do not recommend that patients wait to receive treatment for their missing teeth, as prolonged treatment can lead to jaw bone degeneration.
Additionally, if a patient has suffered from periodontal disease, we may recommend this procedure as part of their treatment plan; of course, factors may vary.
What to expect during the procedure
Before we begin the fixed full arch dental implant procedure, some preparation is necessary. We will first prepare the patient's jawbone with the help of a Computed Tomography (CT) scan or an X-ray to ensure that it is healthy enough and strong enough to hold the implants. After we are ensured the jawbone is acceptable, we will begin the procedure.
To begin, the patient will receive either a sedative or anesthetic to keep them in a relaxed state during the procedure. We then make an incision in the patient's gum tissue where each implant will go. Next, we insert the implants within the patient's jawbone and secure them by screwing them into a titanium fixture on each side, called abutments. Instead of inserting an individual implant into each missing tooth space, we will use four implants altogether to insert the new implants. Finally, we will close up the gum tissue over the top of the fixtures, so the body can begin the osseointegration process.
The Recovery Process
The recovery process is similar to traditional implants but is quicker and less painful. After the procedure, the patient will enter the osseointegration process when the implants bond to the bone. The time it takes for complete implant to bone integration depends on the patient; however, on average, it takes three to six months. Once the implant is fully bonded, the patient will schedule an additional appointment for us to ensure they are progressing successfully.
While the patient is healing, we urge them to avoid rinsing their mouth, removing the gauze (before leaving our office), and smoking at all costs. Smoking increases bacteria in the mouth, which can cause the incision areas to become infected.
We will review additional post-operative care tips during the patient's appointment and any follow-up appointments they may need to be scheduled.
Schedule A Consultation
Fixed full arch dental implant surgery is the permanent solution if you are experiencing a condition that results in losing most or all of your teeth. We are here to upgrade your quality of life safely and effectively. To discover if this is the right procedure for you or to schedule a consultation, call us today at 925-659-1142.
Frequently Asked Questions
How long does a dental implant procedure take?
The procedure takes between one to two hours on average. The procedure's time depends on how much needs to be done, such as the number of tooth extractions you may need. We also take time to monitor patients after the procedure is over, around one hour or so.
What kind of food can I eat after the procedure?
There will be a multi-phase healing process therefore you will be able to consume different foods during each phase. We will give you a list of foods to consume and avoid during your appointment; that way, it will be no trouble for you to remember. Also, avoid using a straw when consuming liquids so you do not disrupt or loosen the blood clots and cause excess bleeding.
How long is the healing process?
On average, full healing can take up to six months. However, this depends on the patient's unique case. Healing time factors include the condition of the patient's jawbone, if they have any other medical conditions that will delay the body's healing, and how well they follow our post-operative instructions at home.
Are dental implants removable?
The fixed full arch dental implants are a permanent restoration option. We will use titanium screws during the procedure to help hold the implants in place so that they can begin the osseointegration process. Once the implants bond to the jaw bone, they are permanent and must be surgically removed. The implants are artificial but will look and feel like natural teeth.
Will I still need to complete my normal oral hygiene routine?
Yes. After healing, it is necessary to brush and floss, as you can still develop gum disease from built-up plaque. Since you will have artificial implants, gum disease inflammation will spread elsewhere in your body, leading to more serious complications.
Recent Posts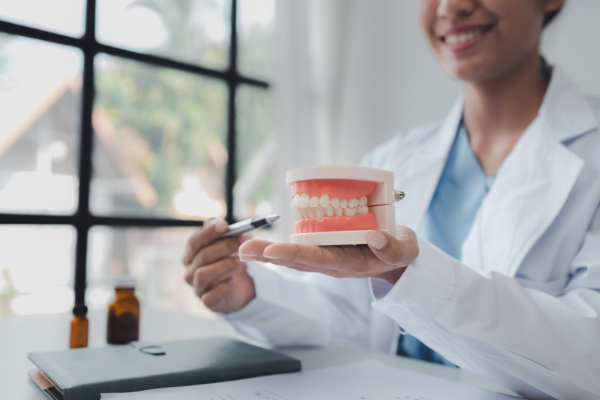 A full mouth reconstruction may be life-changing for patients who have low self-esteem due to their smiles. Many patients first come into the office because they are embarrassed about their teeth or how their smile looks. We recognize that it takes a lot of thought and bravery to step through our doors, and we want…